BMS Scuderia Italia e Pirelli, annunciano che l'equipaggio per la seconda Ferrari F430 GTC che parteciperà al Campionato FIA GT 2008, sarà composto da Joel Camathias e Davide Rigon. I due giovani piloti affiancheranno la già annunciata e confermata coppia Matteo Malucelli (23 anni) e Paolo Ruberti (32 anni).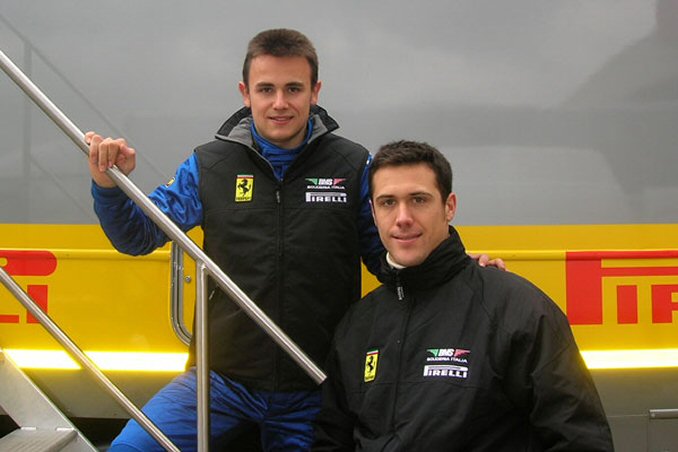 Joel Camathias, pilota svizzero di 27 anni, vanta un invidiabile curriculum caratterizzato negli ultimi due anni dalle vittorie assolute nel Campionato Open GT (2007) e nel Le Mans Endurance Series (GT2 2006) sempre al volante di vetture Porsche 997 RSR.
Davide Rigon, pur essendo giovanissimo pilota italiano di monoposto (21 anni), può essere fiero di un palmares non meno importante avendo vinto il Campionato Europeo ed Italiano 2007 nella F.3000 Euro Series.
Il primo contatto con la vettura è avvenuto mercoledì scorso sul circuito del Mugello dove i piloti hanno percorso oltre 500 chilometri di test con ottimi tempi sul giro e mostrando di aver subito stabilito un ottimo rapporto con la nuova squadra.
Il 20 aprile prossimo BMS Scuderia Italia con Pirelli debutteranno alla prima gara del Campionato FIA GT 2008 sul famoso circuito inglese di Silverstone.
Davide Rigon
"Sono molto soddisfatto di aver raggiunto questo accordo con un team importante come la BMS Scuderia Italia. Abbiamo alle spalle un gruppo come Pirelli e questo non può che rendermi molto felice e ottimista in vista di questa nuova sfida. Sono rimasto pienamente soddisfatto dalla professionalità di tutto lo staff e non vedo l'ora di essere a Silverstone per la mia prima gara al volante di questa fantastica Ferrari F430 GTC. Per me sarà la prima volta in una competizione con le ruote coperte e in più ci sarà da affrontare anche il "cambio pilota". Partirò per l'inghilterra Venerdì inquanto il primo impegno è previsto per sabato"

BMS Scuderia Italia and Pirelli have announced that the crew for the second Ferrari F430 GTC that will participate in the 2008 season of the FIA GT Championship 2008, will consist of Joël Camathias and Davide Rigon. The two young drivers will complete the already announced and confirmed crew made up of Matteo Malucelli (23) and Paolo Ruberti (32).
Joel Camathias, a 27-year-old Swiss driver, can boast of an enviable career including overall victory in the Open GT Championship and in the 2006 Le Mans Endurance Series (GT2 class) driving a Porsche 997 RSR.
Davide Rigon, despite his youth (21 years old), can be proud of an equally significant career, being the winner of the European and Italian F.3000 Euroseries Championship 2007. Their first contact with the car was last Wednesday at the circuit of Mugello where the drivers did more than 500 kilometres of testing with very good lap times, showing to have immediately found a good relationship with the team.
Next 20th of April BMS Scuderia Italia with Pirelli will begin in the first race of the FIA GT Championship 2008 at the famous British race circuit of Silverstone.
Davide Rigon
"I am very pleased to have reached this agreement with a team as important as the BMS Scuderia Italy. We have a group as Pirelli and this can only pay me very happy and optimistic view of this new challenge. I was fully satisfied by the professionalism of all the staff and I look forward to be at Silverstone for my first race at the wheel of this fantastic Ferrari F430 GTC. I will be the first time in a competition with the wheels blankets and more will be addressed also the "driver change. " Take for england Friday inquanto the first task is scheduled for Saturday"