Continua il trend positivo di Davide Rigon nel Mondiale FIA GT al volante della sua Ferrari F430 GT2: anche ad Adria il giovane vincentino, partito dalla terza fila, riesce ad ottenere importati punti per la sua classifica che ora conta 8 dei 24 punti conquistati fino a questo momento dal team BMS Scuderia Italia.

Il bottino poteva essere anche maggiore se una GT1 non toccava il compagno di scuderia Joel Camathias alla fine della seconda parte di gara mentre occupava saldamente la quarta posizione, facendogli perdere così posizioni e tempo prezioso.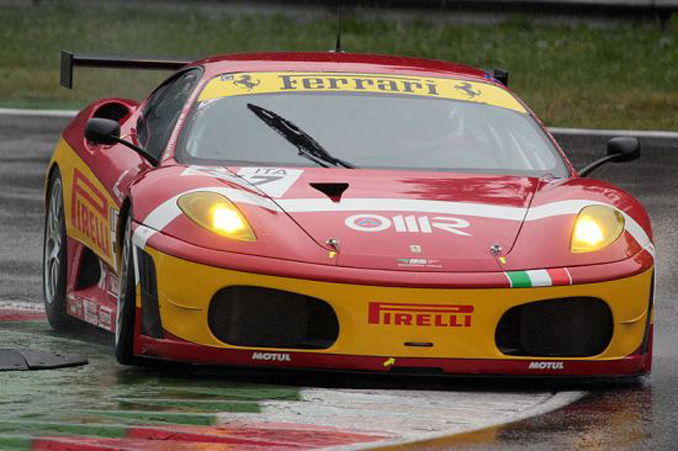 Alla fine è toccato nuovamente a Davide Rigon prendere le redini della potente Ferrari giallo-rossa e portarla fino alla sesta posiziono finale davanti alla 550 Maranello di Lopez/Tuero
"Ancora una volta io e il mio team-mate Joel Camathias abbiamo dimostrato di essere della partita e di poter lottare per il podio." commenta Davide Rigon "Senza quel contatto a metà gara anche noi potevamo giocarci il terzo gradino. Sono comunque soddisfatto di com'è andata la gara perchè fin dal via sono riuscito a trovare un buon ritmo girando sui tempi dei primi. Anche le nostre gomme Pirelli sono state veramente all'altezza della situazione e questo non fa altro che darci ulteriore fiducia in vista del prossimo appuntamento, in programma il 6 luglio sul tracciato tedesco dell' Oschersleben.
Continue the positive trend of Davide Rigon in the FIA World GT at the wheel of his Ferrari F430 GT2: Adria also to the young vincentino, party from the third row, getting imported items in its ranks who now has 8 of the 24 points won up to this time from team BMS Scuderia Italia.
The spoils could be even greater if a GT1 not touched the companion Joel Camathias team at the end of the second part of the race while firmly occupied the fourth position, thus making him lose precious time and positions.
At the end is touched again to David Rigon take the reins of the powerful yellow-red Ferrari and bring it up to sixth final positioned in front of the 550 Maranello of Lopez / Tuero.
Once again I and my team-mate Joel Camathias have proved to be the lot and to fight for the podium. "Commented Davide Rigon" Without that contact in mid-race we could play the third step. I am satisfied with how the race went from the street because I managed to find a good rhythm turning on the timing of the first. Even our Pirelli tyres were really to the occasion and this does nothing but give us further confidence for the forthcoming meeting, scheduled on 6 July on the track of German 'Oschersleben