Come già a Silverstone anche sul tracciato di Monza Davide Rigon, a conclusione delle 2 ore di gara al volante della sua Ferrari F430 BMS Scuderia Italia, riesce a conquistare punti importanti per la classifica, grazie al quinto posto finale.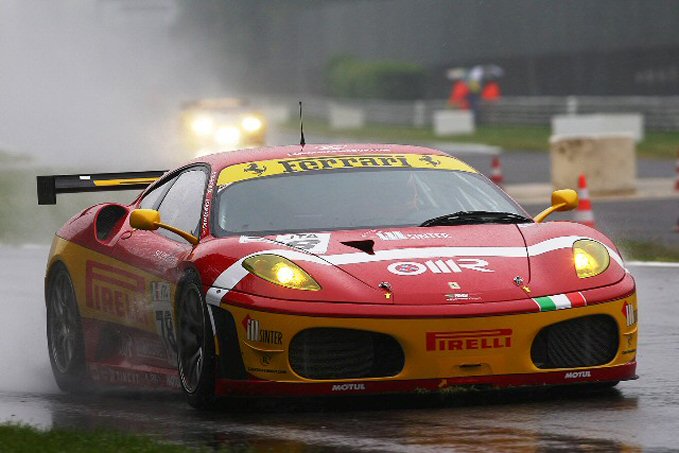 Contrariamente ad ogni previsione la gara si corre con pista asciutta: partito dall'ottava fila al via riesce subito a recuperare numerose posizioni portandosi alle spalle dei primi. Nei giri successivi però è costretto a lasciare spazio alle più potenti vetture del gruppo GT1. Passata la prima ora, e arrivato quindi il momento della sosta e di passare il testimone la suo compagno di scuderia, Rigon occupa la seconda posizione tra le vetture GT2.
Per il terzo stint il vicentino torna nuovamente al volante della F430 giallo-rossa, riuscendo a risalire fino alla sesta piazza, alle spalle del secondo equipaggio BMS Scuderia Italia formato da Ruberti/Malucelli.
"Sono veramente molto soddisfatto di questo risultato e così come me anche tutto il team BMS Scuderia Italia" inizia a commentare Davide Rigon. "Al via sono riuscito a fare una grande partenza portandomi nel gruppo dei primi. Anche il mio ritmo di gara era molto elevato, riuscendo a girare sui tempi di Villander Peccato per una GT che mi ha fatto perdere un po' di tempo. Al momento del "cambio pilota" ero quinto e, quando ho ripreso in mano la vettura per gli ultimi 25 minuti, sono riuscito a risalire fino alla sesta piazza. Ora andiamo ad Adria sapendo di avere un buon pacchetto vettura-pneumatici con l'obiettivo di puntare al podio"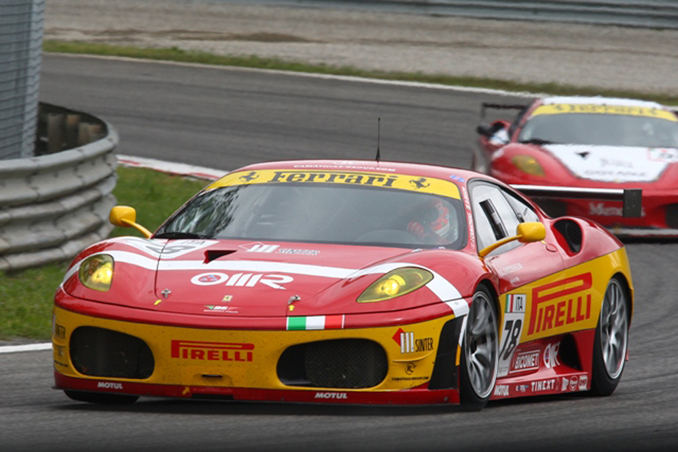 In seguito alla squalifica della Porsche 997 di Collard, Davide Rigon conquista la quinta posizioni e quattro punti mondiali. Grazie a questo risultato Rigon occupa la quarta posizione in classifica generale con 6 punti.
Prossimo appuntamento sul tracciato di Adria il prossimo 21giugno, la gara di "casa" del vicentino.

As at Silverstone also on the track of Monza Davide Rigon, at the conclusion of 2 hours of the race behind the wheel of his Ferrari F430 BMS Scuderia Italia, manages to win important points for the standings, thanks to the fifth place finish.
Contrary to every prediction the race track with one runs dry: the Eighth party ranks ahead immediately able to recover many taking positions behind the former. In subsequent rounds but was forced to leave room for more powerful cars of the group GT1. Passed the first hour, and then came the moment of pause and pass the baton to his companion team, Rigon occupies the fifth position among the GT2 cars.
For the third stint, and for the last 25 minutes, Vicenza back again behind the wheel of yellow-red F430, managing to climb from week to sixth place, cutting the goal behind the second crew BMS Scuderia Italia formed by Ruberti / Malucelli.
"I'm very happy with this result and so like me also the team BMS Scuderia Italia" starts to comment Davide Rigon. "At the start I managed to make a big departure portandomi in the group of first. The rhythm of my race was very high. Too bad for a GT! "I did lose a little 'time. At the time of "exchange pilot" I was fifth and, when I resumed in the hands of the car for the last 25 minutes, I managed to climb up to sixth place. Now let's go at Adria knowing that we have a good package-car tyres with the objective of pointing to the podium "
Following the disqualification of the Porsche 997 of Collard, Davide Rigon conquer the fifth positions and four points worldwide. Thanks to this result Rigon occupies the fourth position in overall standings with 6 points.
Next appointment on the track of Adria next 21giugno, the Rigon race home.