5° posto assoluto, 1° di categoria e, soprattutto, 1° vittoria nel campionato: questi i fantastici numeri del vicentivo Davide Rigon alla fine della prima 24h di Spa-Francorchamps, quinta prova del Mondiale FIA GT, al volante della Ferrari F430 rosso-giallo del Team BMS Scuderia Italia.

Dopo aver visto sfumare la soddisfazione del podio sui tracciati di Adria e Oschersleben, proprio nell'appuntamento più importante e sul circuito più spettacolare quanto difficile Davide Rigon è riuscito a conquistare il gradino più alto del podio e la prima vittoria stagionale.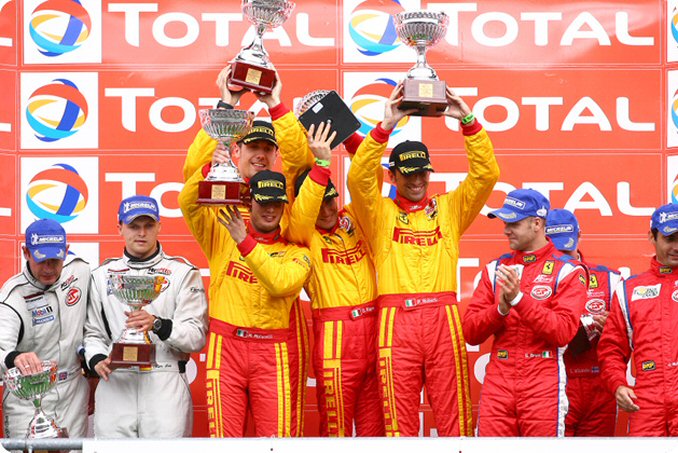 "E' stata una gara spettacolare." commenta Davide Rigon "Una volta arrivati in Belgio tutto il team era carico e sapeva di poter far bene. Alla fine delle delle 24h di gara tutto è andato nei migliori dei modi: la strategia è stata perfetta così come le nostre gomme Pirelli, sopratutto quando nei mio stint ho montate le mescole intermedie e siamo riusciti a girare anche 3 sec più veloci degli altri. Proprio in quel momento siamo riusciti a prendere un notevole margine di vantaggio. Voglio ringrazie tutto il tea e i miei compagni di squadra per questo fantastico successo, il primo nel Mondiale FIA GT"
A Davide Rigon sono bastati quindi solamente cinque appuntamenti per raggiungere la prima vittoria nel mondiale: grazie a questo strepitoso risultato il ventunenne Rigon sale al quarto posto con 33 punti.

5th place, 1st category and, especially, 1st victory in the championship: these are fantastic numbers of Davide Rigon at the end of the first 24h of Spa-Francorchamps, the fifth race of the FIA World GT, at the wheel of the red Ferrari F430 yellow-Team BMS Scuderia Italia.
After seeing blur the satisfaction of the podium on the tracks of Adria and Oschersleben, right into the most important and most spectacular on the circuit as difficult Davide Rigon has succeeded in conquering the highest step of the podium and first win of the season.
"It 'been a spectacular race." Commented Davide Rigon "Once arrived in Belgium the team was loading and know you can do well. At the end of the 24h race of all is in the best possible way: the strategy was perfect as our Pirelli tyres, especially when in my stint I mounted the intermediate compounds and we were able to run 3 sec faster others. Just at that moment we were able to take a substantial margin of advantage. I want ringrazie all the tea and my fellow team for this fantastic success, the first in the FIA World GT "
A Davide Rigon are enough and then only five appointments to achieve the first victory in the world thanks to this great result the Twenty-Rigon rises to fourth place with 33 points.