Questo fine settimana (12-14 febbraio) il ventiduenne Davide Rigon farà il suo ingresso nel campionato GP2 Asia nell'Appuntamento in programma in Qatar sul circuito di Losail grazie, all'accordo raggiunto con il team Trident Racing e il team principal Maurizio Salvadori.

Concorso: Disegna la livrea 2009 del team Minardi by Corbetta Competizioni


Gian Carlo Minardi tra F3 Italia e Formula 1


F1 – Gian Carlo Minardi "Con queste regole non c'è spazio per i giovani"


F1: Gian Carlo Minardi analizza i primi test delle scuderie

Per il giovane pilota veneto si tratterà del debutto ufficiale in una gara targata GP2, dopo aver provato a fine 2007 la Dallara della Fisichella Motor Sport International sul tracciato del Paul Richard, come premio per aver conquistato il titolo italiano ed europeo di F.3000. Proprio in quella circostanza Davide aveva segnato il 9° tempo assoluto (su 65 partecipanti) e il secondo migliore tra i rookies.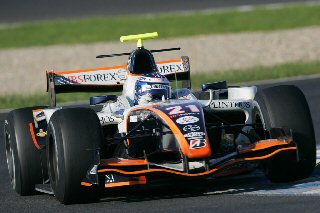 Davide tornerà ad indossare tuta e guanti dopo aver conquistato il titolo nel Campionato Superleague Formula, ottenuto sul tracciato spagnolo di Jerez lo scorso 23 novembre (con all'attivo 3 vittorie e 2 terzi posti)
"Voglio ringraziare il team Trident Racing e Maurizio Salvadori per avermi dato questa opportunità e spero di ricompensarli con un bel risultato" commenta il pilota veneto Davide Rigon "Si tratterà del mio debutto in questa categoria e per questo cercherò di sfruttare al meglio l'occasione, in quanto il mio obiettivo principale per questa stagione è quello di essere sulla griglia di partenza della GP2 Main Series. Proprio per questo domani (martedì) partirò per il Qatar, per mettermi subito al lavoro con l'ingegnere. Il tempo a disposizione sarà pochissimo in quanto avrò solo 30 minuti di prove libere per mettere a punto la vettura ed imparare il tracciato. Non salgo su una monoposto dal 23 novembre, ma in questi mesi ho continuato a lavorare duramente per essere pronto ad ogni chiamata."


GP2 Asia – Davide Rigon in Qatar with Trident
This weekend (12-14 February) the ventiduenne Davide Rigon will make its entry into the GP2 Asia championship in Qatar at the Losail circuit, thanks to the agreement reached with the Trident Racing team and the team principal Maurizio Salvadori.
To the young driver it will be the official debut in a GP2 race targato, after trying at the end of 2007, the Dallara Fisichella Motor Sport International on the route of Paul Richard, as a reward for having won the Italian title and European F.3000. On that occasion David had marked the 9th time absolute (about 65 participants) and the second best among rookies.
David returns to wear overalls and gloves after having won the title in the Superleague Formula championship, obtained on the Spanish track in Jerez last November 23 (with 3 wins on the assets and 2 third places)
"I want to thank the Trident Racing team and Maurizio Salvadori for giving me this opportunity and I hope to be rewarded with a beautiful result," commented Davide Rigon "This will be my debut in this category for this and try to make the most of opportunity , because my main goal for this season is to be on the starting grid of the GP2 Main Series. Precisely for this tomorrow (Tuesday) leaving for Qatar, to put it to work with the engineer. The time available is very short because I have only 30 minutes of free practice to develop the car and learning the track. Do not go up on a single by November 23, but in recent months, I continued to work hard to be ready at every call. "