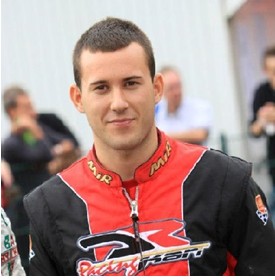 Date of birth: 1993 December 27th
Place of birth: Gagliano del Capo (LE)
Nationality: Italiana
Marital Status: Unmarried
Residence: Corsano (LE) – Italy
Hobbies: Moto cross
Favourite circuit: Pista salentina (Ugento)
Actual team: Renda Motorsport
E-Mail: rikynegro@yahoo.it
Website: www.riccardonegrosite.wix
Twitter:
Facebook: Riccardo Negro
Height: 171 cm
Weight: 69,5 kg
Best results
2013 1st place in WSK Euro Series in KZ2
2012 1st place in WSK Final Cup in KZ
2011 2nd place in ADAC Kart Master in KZ2 in Germany
ALL RICCARDO NEGRO'S RESULTS
Click on the season to see the results of the Driver

2017
Energy Kart Official Driver
CIK-FIA Euopean Chanpionship
CIK-FIA World Cup – Wackersdorf
2016
Energy Kart Official Driver
CIK-FIA Euopean Chanpionship
CIK-FIA World Cup – Kristianstad
2015
CIK-FIA European Championship
2014
7th place in WSK Champions Cup in KZ
2013
3rd place in WSK Master Series in KZ
4th place CIK-FIA International Super Cup in KZ2
1st place in WSK Euro Series in KZ2

2012
1st place in WSK Final Cup in KZ
3rd place in World Cup in KZ2
11th place in CIK-FIA European Championship in KZ2
2nd place in WSK Euro Series in KZ2
5th place in WSK Master Series in KZ

2011
4th place in Final Standings in WSK Master Series in KZ2
2nd place in ADAC Kart Master in KZ2 in Germany

2010
He was invited by ADAC to support testing in Formula, where his performance was great, being able to find the feeling with the car right from the first test.

2009
Moved to Germany to race in the competitive sector, with Millenium team owned by Stefan Bongarts
2008
Frequent travels between Italy and Germany, winning races in both nations. Until then, he was supported and followed only by his father.

2007
Attended several races in Germany in 100 Junior Category with great success, managing to stay ahead of the Germans in international competitions. 1st Place: Top Driver Junior 100 Category Trophy at La Conca.

2005
2nd place Regional Championship 60cc category
1st place in III Memorial Chiefa 60cc category
1st place in Salentino Trophy
8th place in Macerata Italian Championship

2002
1st place in Griffon Trophy – Marzo Sarno
1st place in Griffon Trophy – Aprile Sarno
1st place in VIII Regional Test at La Conca
1st place in Salentino Trophy
Winner of Puglia regional Championship 50cc category

Stagione 2001
Val Vibrata 2nd place Winter Trophy – December