Sono stati 4 giorni intensi quelli vissuti dal Campione in carica della Superleague Formula Davide Rigon a Pechino, invitato dal Presidente della squadra di calcio Beijing Guoan FC, il Racing Team con il quale l'italiano ha inaugurando l'albo d'oro di categoria, grazie ai tre sigilli messi a segno nello "stadio" inglese (Donington Park), belga (Zolder) e italiano (Vallelunga), ai due terzi posti ((Nurburgring e Jerez) e ai numerosi piazzamenti, conquistando un bottino finale di 413 punti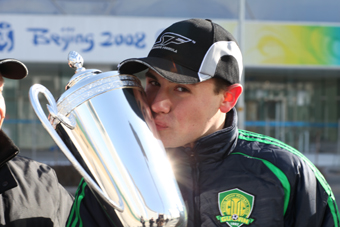 Nei 12 appuntamenti – su 6 circuiti – Davide ha avuto modo di confrontarsi direttamente con piloti di grande esperienza provenienti da diversi campionati, quali GP2 Main Series – l'inticamera della Formula 1, World Series by Renault, Champ Car e proprio dal circus della massima serie automobilistica come l'olandese Robert Doornbos (Minardi, Red Bull) e il brasiliano Antonio Pizzonia, con un passato in Jaguard e Williams
"Sono stati dei giorni veramente fantastici in quanto avevano organizzato in mio onore una festa impressionante" commenta Davide Rigon sorridendo appena sceso dall'aereo che lo ha riportato in Italia "Nei primi due giorni ho avuto modo di incontrare i tifosi del Beijing Guoan per firmare autografi e fare fotografie, mentre il grande evento era stato fissato per il 22 gennaio: ho visitato il loro stadio e tutti gli impianti sportivi costruiti in occasioni delle olimpiadi del 2008 dove ho potuto fare anche qualche palleggio – anche se il calcio non è il mio forte, visto mi trovo decisamente più a mio agio all'interno di un abitacolo di una monoposto -, per poi trasferirci in un castello dove avevano organizzato una conferenza stampa con giornalisti, televisioni e le più alte cariche politiche e i più importanti industriali cinesi.
Si sono detti molto soddisfatti per i miei risultati e, anche se non sono riusciti ad essere presenti a tutte le gare – ad esclusione della prima in Inghiliterra -, hanno avuto modo di seguire il campionato tramite giornali e televisioni che riportavano quotidianamente notizie e risultati della Superleague Formula.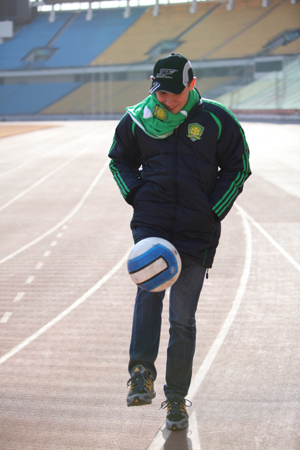 Il Beijing Guoan non era mai riuscito a vincere un trofeo a livello internazionale e per questo sono determinati a continuare questa avventura e hann odetto che faranno di tutto per avermi ancora come loro portabandiera, cercando di avere anche una gara in Cina. Naturalmente io non so ancora cosa farò in questa stagione in quanto stiamo cercando il budget necessario per affrontare la stagione in GP2 Main Series. Non sarà certamente cosa facile, visto il difficile momento di tutta l'economia mondiale, ma spero veramente di poter avere la mia grande occasione. In questi anni sono cresciuto molto sotto tutti gli aspetti accumulando grande esperienza nelle diverse competizioni, vincendo gare e campionati. Purtroppo i soli risultati a volte non bastano in quanto senza le adeguate risorse economiche per coprire i budgets di un'intera stagione non si riesce ad andare avanti. Come ho detto prima, insieme ai miei manager, siamo alla ricerca di sponsorizzazioni.
In questi giorni " conclude Davide" nascerà anche un mio sito in lingua cinese legato al loro portale ufficiale di calcio"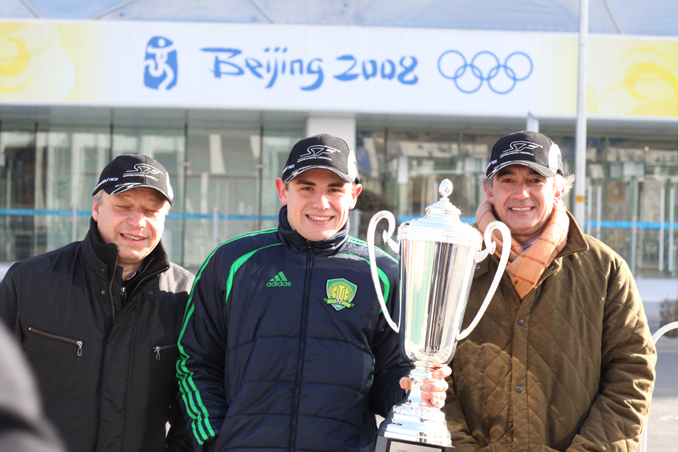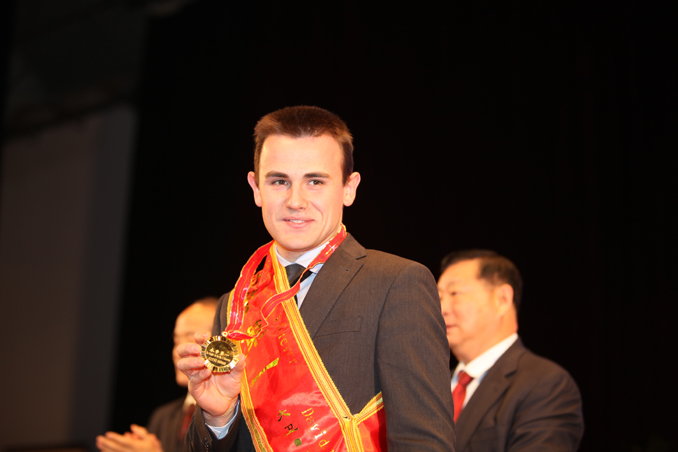 Big party in Beijing for Davide Rigon
4 days have been intense lived by those in charge of the Champion Superleague Formula Davide Rigon, invited by the President of the football team Beijing Guoan FC.
At the end of the championship Rigon won the first 3 places (Donington Park, Zolder and Vallelunga), two third places ((Jerez and Nurburgring) and numerous places to loot a final 413 points
In the 12 events – 6 circuits – Davide has had the opportunity to meet directly with highly experienced pilots from different leagues, such as GP2 Main Series, World Series by Renault, Champ Car, and F1, as the Dutchman Robert Doornbos (Minardi, Red Bull) and the Brazilian Antonio Pizzonia, with a past and Jaguard Williams
"It was truly fantastic day because I had organized a celebration honor impressive" commented Davide Rigon smiling just dropped the plane that brought him to Italy "In the first two days I have had occasion to meet with supporters of the Beijing Guoan to sign autographs and take pictures, while the big event was set for January 22: I visited the stadium and all the sports facilities built for the Olympics in 2008 where I have done some dribble – even if the football is not my strong, since I am much more at ease in a cockpit of a single – and then move to a house where they had organized a press conference with reporters, television and the highest political office and the most important industry in China.
Were quite satisfied with my results and, even if they are not able to be present at all the races – with the exception of the first in Inghiliterra – have been able to follow the championship through newspapers and television reported that a daily news and results Superleague Formula.
The Beijing Guoan had never managed to win a trophy at the international level and are determined to continue this adventure and hann Odetto that will make everything for me even as their standard bearer, trying to have a race in China. Of course I do not know yet what I will do this season because we are looking for the budget needed to tackle the season in GP2 Main Series. It will certainly not be easy, given the difficult moment of the entire world economy, but I hope you can really get my big chance. In recent years, I grew a lot in all aspects accumulated great experience in the various competitions, winning races and championships. Unfortunately the results just are not enough sometimes because without adequate economic resources to cover the budgets of an entire season you can not go forward. As I said before, together with my manager, we are looking for sponsorship.
In these days, "said David" will create a site in my Chinese language related to their official football portal "