Superleague Formula – Gallery Davide Rigon
Non c'è due senza tre.. Dopo Donington Park e Zolder il ventiduenne Davide Rigon, al volante della Elan / Panoz bianco verde del Racing Team Beijing Guoan, conquista la terza vittoria in campionato su cinque appuntamenti. Per la quinta giornata consecutiva il vicentino mantiene la vetta della classifica portando il suo bottino a 353 punti con 59 lunghezze sul primo degli inseguitori, il PSV Eindhoven di Buurman.

Il fine settimana di Davide Rigon sul tracciato romano di Vallelunga era iniziato con le tre sessioni di prove libere caratterizzate dal tempo incerto. In tutti e tre i turni la pioggia si alternava a dei spazzi di sole costringendo i piloti a diversi cambi di setup. La giornata del sabato continua con lo spettacolo delle qualche dove Rigon e il Beijing Guoan sono inseriti nel gruppo B insieme al Liverpool, Sevilla, Anderlecht, FC Basel, Borussia Dortmund, Rangers e Flamenco. Alla fine dei 15' minuti Rigon è al comando con il miglior crono di 1:22.322, classificandosi di diritto alla fase finale, insieme al Flamengo, Anderlecht e Liverpool e ai quattro racing team del gruppo A – Corinthians, Milan, Galatasaray e Roma.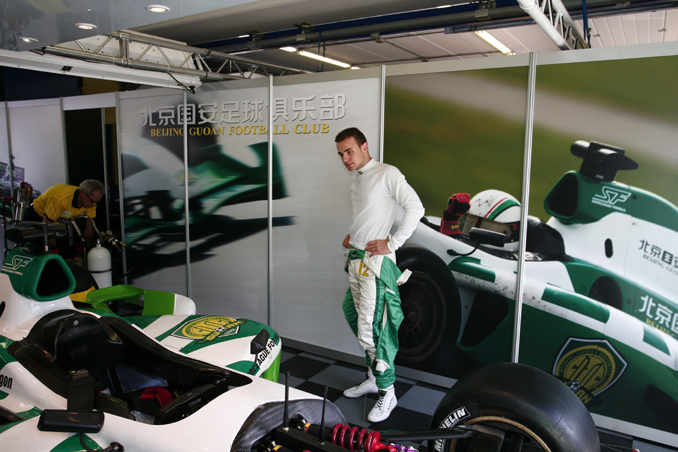 Nei quarti di finale Rigon deve affrontare la Roma dell'ex GP2 Pererà. Sul filo dei decimi Rigon e Perera si sfidano curva dopo curva e, alla fine è proprio l'italiano ad avere la meglio sul giallorosso passando così il turno. In semifinale Rigon è chiamato ad affrontare ancora una volta un team italiano: questa volta sono i diavoli della Scuderia Playteam, capitanati da Robert Doornbos. Al momento di entrare in pista la scuderia opta per mantenere le gomme usate e questo giocherà un ruolo determinante alla fine del risultato: al primo intermedio il milanista è in vantaggio di appena 39 millesimi, ma proprio a causa delle gomme usate il distacco alla fine del secondo e terzo settore è di 6 decimi. Davide Rigon viene così eliminato dalla fase finale, partendo dalla seconda file con il terzo tempo.
Come da tradizione nella Superleague Formula la partenza è lanciata dietro la safety car; al via Davide Rigon mantiene la posizione dietro a Valles e Doornbos. Il vicentino si fa subito minaccioso alle spalle dell'ex pilota di F1 cercando il sorpasso ma Doornbos è bravo a chiudere ogni volta la porta. Il capolavoro avviene però al nono passaggio quando il team decide di far rientrare subito il suo pilota per il cambio gomma: il pit stop è perfetto e Rigon può tornare in pista con mescole nuove. Il vicentino spinge al massimo fissando al tredicesimo passaggio la migliore prestazione in 1:23.600, portandosi così al comando della gara, posizione che riuscirà a mantenere fino alla bandiera a scacchi andando a cogliere la terza vittoria in assoluto.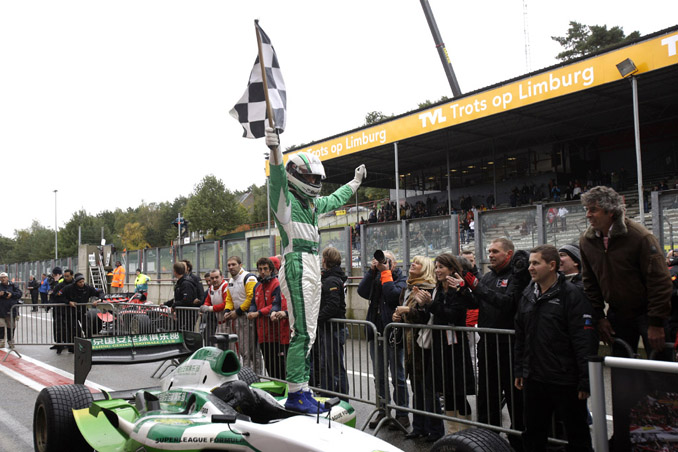 Il secondo appuntamento è un Davide Rigon show: partito dall'ultima fila per aver vinto gara-1 il vicentino si rende protagonista di una straordinaria rimonta che lo porterà a tagliare il traguardo in quanta posizione, alle spalle del vincente Porto, della AS Roma, PSV Eindhoven e del Liverpool di Adrian Valles
"Sono veramente contento per questo terzo successo. E' stata una gara fantastica e tirata fino all'ultimo giro. Purtroppo in semi-finale non abbiamo montato il set nuovo e questo non ci ha permesso di passare il turno qualificandoci solamente al terzo posto. In gara però sapevo di avere una macchina perfetta e i ragazzi e tutto il team sono stati eccezionali. Dopo aver montato le gomme nuove ho spinto al massimo segnando anche il giro più veloce della gara. In gara-2 ho fatto un'altra bella rimonta anche se partire dal fondo non è certo facile. Sono stato bravo ad evitare contatti con i mie avversari e alla fine ho portato a casa un quinto posto molto importante per il campionato. Con qualche giro in più a disposizione avrei potuto attaccare anche Valles. Ancora una volta lascio un circuito in testa al campionato e per questo sono molto contento. Ora inizierò a lavorare per Jerez"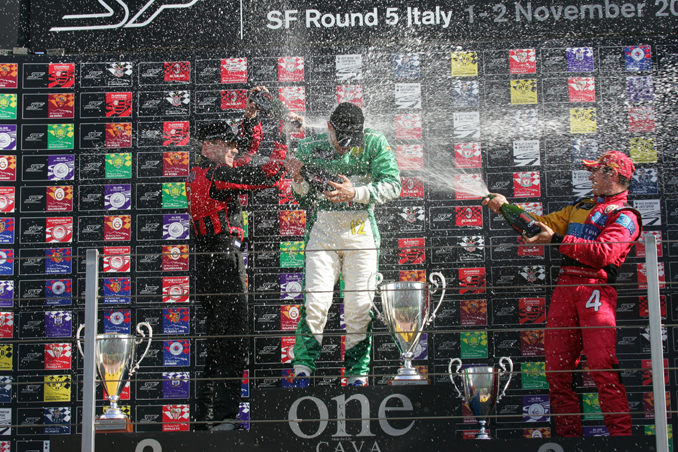 Prossimo appuntamento con Davide Rigon e la Superleague Formula è per il 23 novembre sul circuito di Jerez, per l'appuntamento conclusivo.
La classifica
1 Beijing Guoan – Davide Rigon 353
2 PSV Eindhoven 294
3 Liverpool FC 291
4 AC Milan 267
5 RSC Anderlecht 244
6 AS Roma 243
7 Galatasaray SK 236
8 FC Porto 218
9 Sevilla FC 217
10 Tottenham Hotspur 207
11 Corinthians 205
12 Al-Ain 200
13 Rangers FC 190
14 FC Basel 183
15 Flamengo 171
16 BVB Borussia Dortmund 158
17 Olympiacos 142
18 Atletico de Madrid 120

Superleague Formula – Third victory for Davide Rigon. The championship at a pace
Third seal.. After Donington Park and the Zolder ventiduenne Davide Rigon at the wheel of Elan / Panoz white/green Racing Team of Beijing Guoan, conquering the third league victory in five events. For the fifth consecutive day the Vicenza maintains top the list of leading his booty to 353 points with 59 lengths on the first of the pursuers, the PSV Eindhoven of Buurman.
The weekend of Davide Rigon on the track of Vallelunga Roman era began with the three free practice sessions characterized by uncertain time. In all three rounds rain alternating with sunny spaces of forcing pilots to different setup changes. The day continues on Saturday with some of the show where Rigon and Beijing Guoan are included in Group B along with Liverpool, Sevilla, Anderlecht, FC Basel, Borussia Dortmund, Rangers and Flamenco. At the end of the 15′ minute Rigon is in command with the best chrono of 1:22.322, classified right to the final stage, along with Flamengo, Anderlecht and Liverpool and the four racing teams in Group A – Corinthians, Milan, Galatasaray and Roma.
In the quarter-finals Rigon faces of the Rome GP2 Perera. On the wire-tenths of Rigon and Perera challenge curve after curve and in the end it is the Italian to have the best passing giallorosso so on the turn. In semifinal Rigon is called to address once again a team Italian: this time are the devils of Scuderia Playteam, headed by Robert Doornbos. Upon joining the track team opts to keep the tires used and this will play a decisive role at the end of the result: the first interim Milan is leading by just 39 thousandths, but precisely because of used tires posting at the end of second and third sector is 6 tenths. Davide Rigon is thus eliminated from the final stage, starting from the second file with the third time.
As per tradition in the Superleague Formula departure is launched behind the safety car, Davide Rigon way to maintain the position behind Valles and Doornbos. The 22 years old is now threatening the shoulders of former F1 driver looking for overtaking but Doornbos is good at closing every time the door. The masterpiece is done, however, the ninth step when the team decided to bring its pilot suffered for changing rubber: the pit stop was perfect and Rigon can return to the track with new compounds. Vicenza leads to the maximum setting in the thirteenth step for optimum performance in 1:23.600, thus taking command of the race, a position that will maintain until the checkered flag going to seize the third victory ever.
The second event is a show Davide Rigon: row after the party for having won race 1 is aware vicentino the protagonist of an extraordinary comeback that brought him to cross the finishing line in what position, behind the winner Porto, of AS Roma, PSV Eindhoven and Liverpool Adrian Valles
"I'm really happy for this third successful. It 'been a fantastic race and pulled until the last lap. Unfortunately, in semi-final we have not fitted the set is not new and has allowed us to pass the qualifying round only in third place. But I knew in the race to have a perfect car and boys and the team has been exceptional. Having mounted the new tires I pushed up to marking the fastest lap of the race. In race 2 I made a nice comeback though starting from the bottom is not easy. I was good at avoiding contact with my opponents and in the end I brought home a fifth place very important for the championship. With a few more lap I might have to attack even Valles. Once again leave a circuit in the lead of the championship and for this I am very happy. Now begin to work for Jerez "
Next meeting with Davide Rigon and Superleague Formula is for Nov. 23 on the circuit of Jerez for the final appointment.