In attesa del via del Campionato Italiano di Formula 3, il Team Minardi by Corbetta Competizioni dà la possibilità a tutti i tifosi e appassionati di motori di vivere la nuova stagione da protagonisti assoluti. Tutto questo come? Dando vita ad un concorso, aperto a tutti, per realizzare la nuova livrea delle tre Dallara F308 motorizzate FPT che andranno a calcare i più importanti autodromi nazionali. L'unico requisito richiesto? LA FANTASIA… Attenzione però… Hai tempo solo fino al 12 febbraio 2009

Partecipare è semplicissimo. Collegandosi al sito Minardi.it (www.minardi.it) potrai scaricare l'immagine della vettura Dallara F308 (vista dall'alto, davanti e frontale). A quel punto non devi far altro che liberare la tua fantasia per dar vita alla nuova livrea. Naturalmente i colori dovranno essere quelli storici del marchio creato da Gian Carlo Minardi: il blu scuro e il giallo con un po' di bianco.
Partner del progetto "Disegna la livrea 2009 del team Minardi by Corbetta Competizioni" è il nuovo portale dedicato al motorsport 422race.com (www.422race.com).
Starà a te scegliere la migliore tecnica di disegno. Non ci sono limiti: dai programmi di computer grafica alle matite colorate passando per gli acquerelli… Tutto quello che vuoi!
Da sempre Gian Carlo Minardi, con il suo Team Minardi F1, ha puntato sui giovani piloti lanciando nel grande circus nomi come Giancarlo Fisichella, Jarno Trulli, Fernando Alonso, Mark Webber … e, anche oggi, il team principal Angelo Corbetta è sempre alla ricerca di giovani leve da far esordire nel mondo delle formule, con l'obiettivo di farli crescere professionalmente, dandogli la possibilità di andare il più avanti possibile. Proprio per questo il Team Minardi by Corbetta Competizioni è presente nei campionati di Formula Azzurra e Formula 3 Italia.
Tutte le realizzazioni dovranno essere inviate al seguente indirizzo e-mail: media@minardi.it, insieme ai vostri dati (nome, cognome, età, città di provenienza, e-mail) e la più bella e innovativa potrà essere realizzata.
Clicca sull'immagine per scaricare il file originale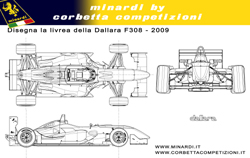 Great Contest "Draw the livery of Team Minardi by Corbetta Competitions F.3 Italia"
Looking forward to the start of the Italian Formula 3 Championship, the Minardi by Corbetta Competizioni Team gives all the motorsport fans the possibility to live the new season as real protagonists, thanks to an open competition to realize the livery of the team's three Dallara F308. You only need a little bit of FANTASY… but pay attention: you just have the time until the 12th February 2009.
To take part in the competition you just have to log into the Minardi.it website (www.minardi.it), where you will be able to download the image of the Dallara F308 car in three views. Then you just have to use your fantasy to give life to the new livery. Naturally the colours will have to be the historical ones of Gian Carlo Minardi's team: dark blue and yellow with a little bit of white.
Official partner of the project "Design the 2009 livery of the Minardi by Corbetta Competizioni team" is the new Italian motorsport website 422race.com (www.422race.com).
You can choose the best design technique. There is no limit: from the computer graphic softwares to the crayons… everything you want.
Gian Carlo Minardi, with his Minardi F1 Team, has always given the youngsters a stepstone into Formula 1, as he did with Giancarlo Fisichella, Jarno Trulli, Fernando Alonso, Mark Webber … Still today, the team principal Angelo Corbetta is looking for young drivers to debut in the world of the Formulae. Team Minardi by Corbetta Competizioni takes part in Formula Azzurra and Formula 3 Italia championships.
You will have to send all your works to the following e-mail: media@minardi.it, together with your data (name, surname, age, city, e-mail) and the most beautiful will be realized.
Have fun, good work and, naturally… Forza Minardi by Corbetta Competizioni.
Click here to download the original file