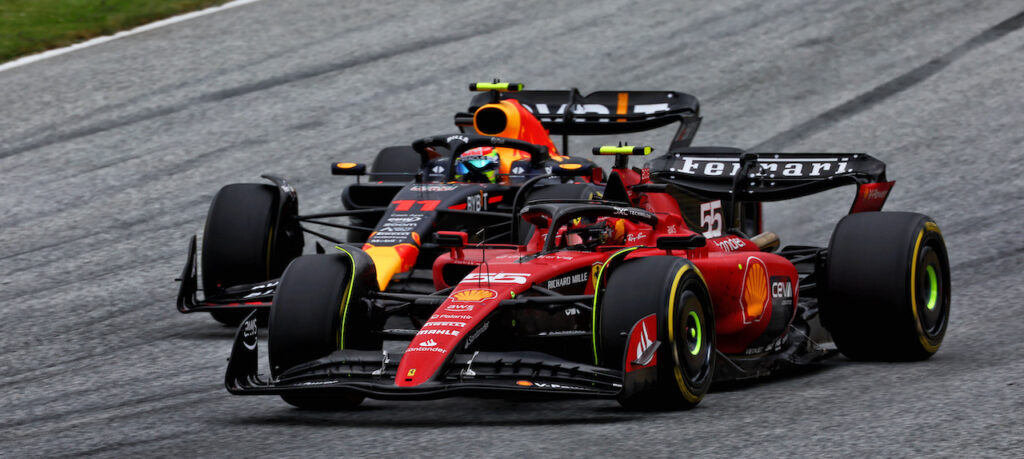 As was easy to expect, Red Bull and Max Verstappen hoarded away the points with pole position, the win in the sprint race and in the grand prix, as well as the fastest lap (snatching it way from Sergio Perez) with a pitstop on the last lap and mounting the softs.
With this move, which was also a little arrogant considering that even the team was against it, he wanted to give a moral slap to his teammate and Ferrari.
Ferrari showed an improvement, especially in regard to its direct rivals Mercedes and Aston Martin (not perfectly at ease in Austria). Both Leclerc and Sainz were protagonists of a good race and a solid weekend, particularly the Spaniard who fought with Perez trying to repeat Saturday's result.
Too bad for the 5" penalty for having exceeded the track limit just when he was behind his teammate. Otherwise, he would have been able to keep third place. Excellent second place for Leclerc (paying however an average 5 tenths of a second gap per lap from Verstappen), even if the "stain" from the sprint race remains, finishing only in twelfth place.
Ferrari must work on precisely this issue: consistency to avoid running once more into Saturday's problems with a cold track. They must run to become the second force of the world championship. It is useless and illusory to think anything else.
Sergio Perez took third place, but he is still passing through an uneasy period. There is an abyss between him and Verstappen, even if he may have the excuse of a not perfect physical condition.
We saw McLaren again with Norris who had a car with many new innovations, unlike Piastri with the traditional car. Fourth place is a good omen for the near future. Silverstone will be an important test for them as well.
Before we say goodbye, I would like to give some thought to the track limit rule. Perhaps it is time to think that not all rules are good on all tracks. It is really a scandal to award all these penalties in one weekend. It needs to be reconsidered, especially in view of the numerous penalties imposed five hours after the checkered flag concluded as a result of the complaint filed by Aston Martin that subsequently involved Carlos Sainz, Lewis Hamilton, Pierre Gasly, Alexander Albon, Esteban Ocon (as much as 30″), Logan Sargeant, Nyck de Vries (15″) and Yuki Tsunoda.
Gian Carlo Minardi
https://www.minardi.it/wp-content/uploads/2023/07/sainz-perez-ferrari-red-bull-gara-austria-f1-2023-1024x683-1.jpg
459
1024
Redazione
http://www.minardi.it/wp-content/uploads/2019/07/logo_m-1.png
Redazione
2023-07-03 10:21:28
2023-07-03 10:21:28
F1 | GP AUSTRIA, THE POINT BY GIAN CARLO MINARDI "FERRARI MUST FIND CONSISTENCY AIMING FOR SECOND PLACE IN THE CONSTRUCTORS'"