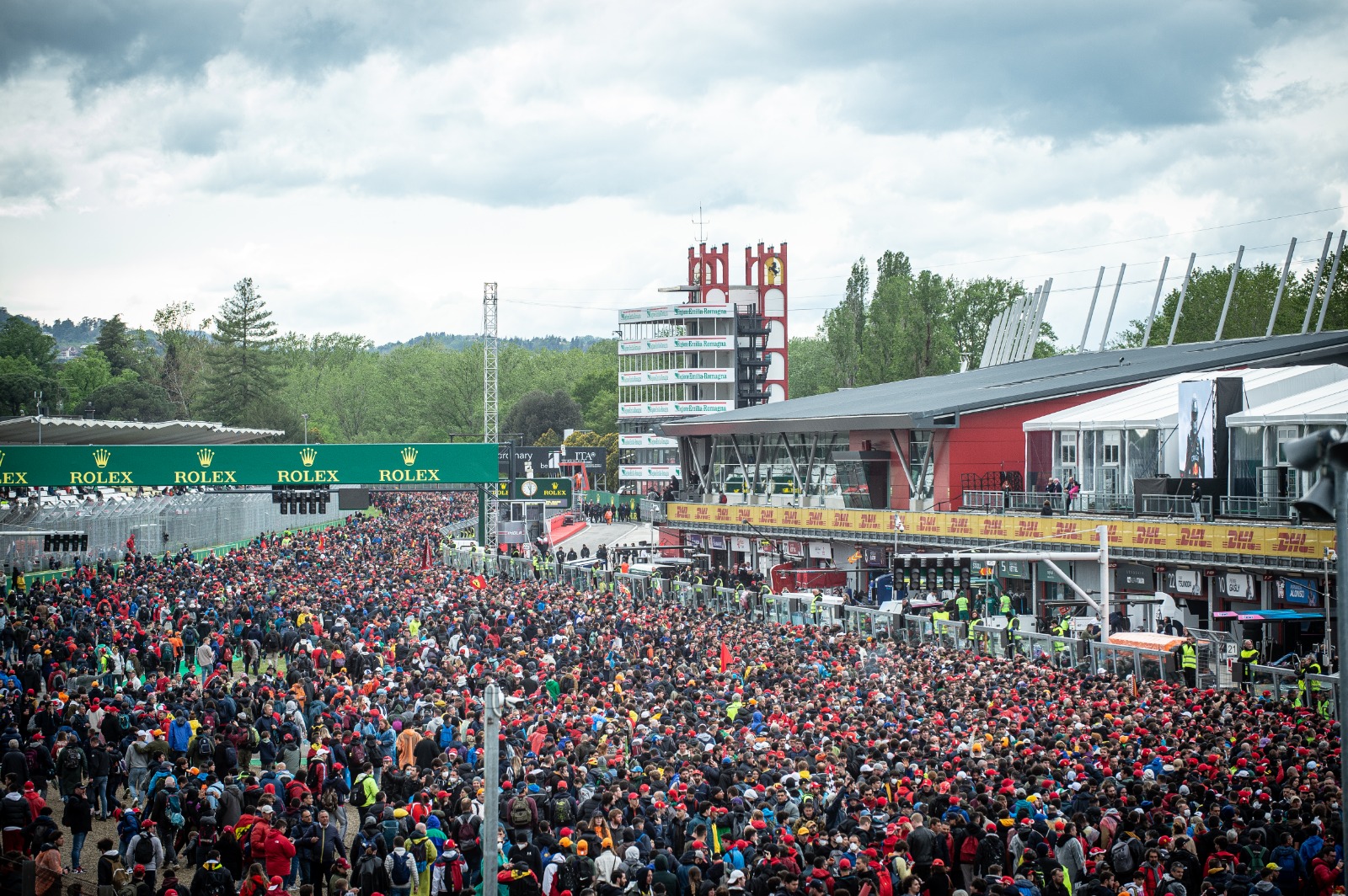 First of all I want to thank the 130,307 fans who filled and coloured Imola's Enzo and Dino Ferrari Circuit. It was a positive result and they deserve an extraordinary cheer. Despite the water and the mud they stayed until the end with an exceptional invasion of the track. In all the three days we had a sporting, correct and competent audience. Under the podium they applauded the winners.
It was incredible to see the thousands of fans who, on the Saturday, stayed until the end to also watch the Formula 2 race. It was a result that is difficult to see in other circuits.
On the racing front Max Verstappen and Red Bull dominated the whole weekend taking pole position, sprint race, grand prix and the fastest lap. They were the masters of Ferrari's home. It was a result that must certainly make Ferrari think. The team says goodbye to Imola with only sixth place to its credit, the result of a mistake in the final stages. In view of the world championship Leclerc would have done well to settle for third place but in that moment he was catching up to Perez and he tried to attack the Mexican to try and take second place.
It was the first mistake of a very long season that promises to be tight and played on the edge of thousandths of a second and on every single point. It becomes fundamental not to give any advantage to the rivals.
With this win Verstappen goes to second place on the ladder, 27 points behind the driver from Monte Carlo who crossed the finish line in sixth place ahead of the excellent Tsunoda. It was a decidedly negative weekend for Carlos Sainz who is not going through a good personal moment. In qualifying he made a stupid mistake that he partially remedied with a good come back in the sprint race. In the race he was slightly touched by Ricciardo but there is contributory blame. This was a race accident but with a high price.
McLaren confirmed it is the third force of the world championship with Lando Norris who completed the Imoa podium. We saw the Aston Martins once again in the points zone with both its drivers and Magnussen who brought another two points to Haas. It was a positive day for Valtteri Bottas too and Alfa Romeo   with a fifth place finish behind an excellent George Russell. The Englishman consolidated fourth place on the ladder and overshadowed Lewis Hamilton, only fourteenth just like at the end of the sprint race.
Now Formula 1 will move to Miami but the Imola Circuit is ready to host new and exciting races including the Le Mans Series in mid May, the DTM the month after, the Historic Minardi Day at the end of August and the ACI Weekends.
Gian Carlo Minardi
https://www.minardi.it/wp-content/uploads/2022/04/WhatsApp-Image-2022-04-24-at-19.14.52.jpeg
1064
1600
Redazione
http://www.minardi.it/wp-content/uploads/2019/07/logo_m-1.png
Redazione
2022-04-24 19:12:01
2022-04-24 22:35:20
F1 | GP IMOLA, THE POINT BY GIAN CARLO MINARDI "AN EXTRAORDINARY AUDIENCE OF TRUE FANS"