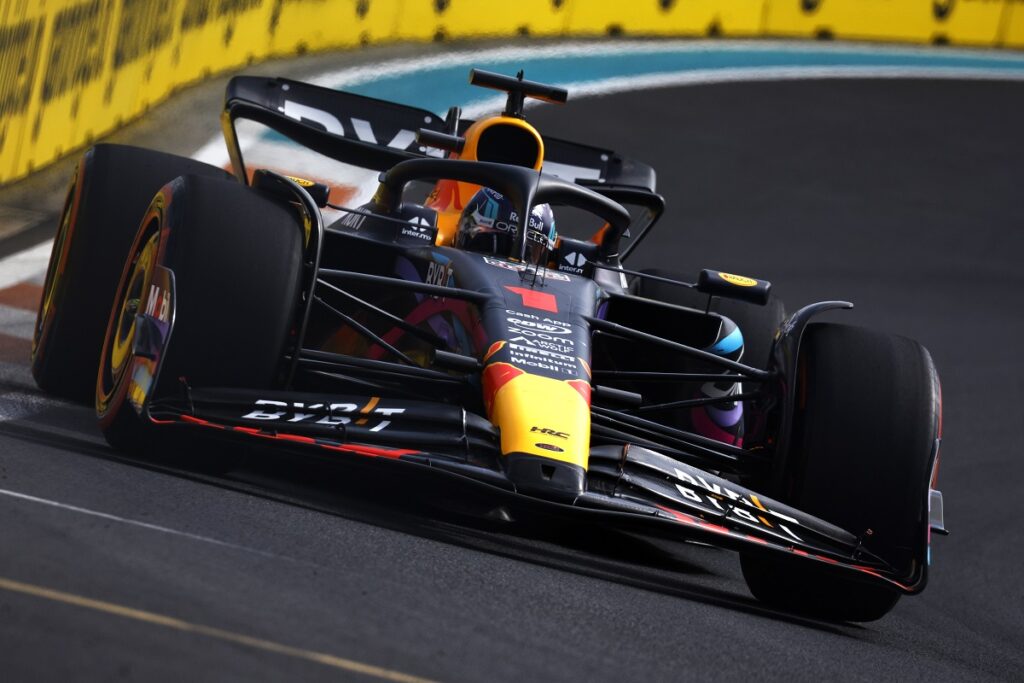 Max Verstappen and Red Bull also took out the Miami Grand Prix, the fifth round of the Formula 1 World Championship. Starting from ninth place the Dutchman made himself the protagonist of a long run of 46 laps before his pit-stop and also taking out the fastest lap of the race, snatching it from Sergio Perez. Once he mounted the "yellow" tyres he immediately set about chasing his teammate taking out not only the win but also the extra point for the fastest lap.
It was an unconditional one-way domination. Verstappen showed that he is one with his car and all the team. Starting from pole position, accompanied with a pinch of luck, Perez was unable to counter the strength of the world champion.
Back on the podium was an excellent Fernando Alonso (the fourth in five races,) consolidating Aston Martin as the second force of the World Championship despite Lance Stroll going missing.
On the Ferrari front, right now the drivers must drive beyond the limits of the car to try and keep up with the rivals. The two mistakes made by Charles Leclerc are synonymous with the difficult moment. As happens in football, it is proper to support the team when it wins and fights for an important objective, but it is just as important to make the support heard also in the less happy moments when no titles are at stake.
In Imola, just like Mercedes, they will bring many new developments with the hope that this could be the start of the comeback. Leclerc will also want to make people forget the mistake he made precisely a year ago in Imola.
It was a discrete performance by Mercedes that took out fourth place with George Russell and sixth place with Lewis Hamilton who got the better of the driver from Monte Carlo at the end.
One final thought, Leclerc's mistake in qualifying was sacrosanct but when much is said about safety and then we go racing on a circuit with completely paved escape routes (instead of sand or gravel) which did not help to slow down the cars before hitting with the barriers.
I look forward to seeing many of you in Imola in two weeks got the sixth round of the World Championship to support Ferrari and your favourites.
Gian Carlo Minardi
https://www.minardi.it/wp-content/uploads/2023/05/verstappen-vittoria-miami-1024x683-1.jpg
683
1024
Redazione
http://www.minardi.it/wp-content/uploads/2019/07/logo_m-1.png
Redazione
2023-05-08 14:30:53
2023-05-08 14:31:04
F1 | GP MIAMI, THE POINT BY GIAN CARLO MINARDI "ONLY ONE MAN IN COMMAND"