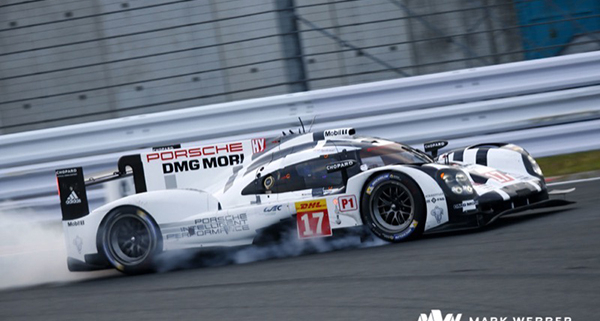 New winner of the World Endurance Championship title at the wheel of his Porsche 919 Hybrid, Mark webber started his career in Faenza. It was 2002 when the Australian driver debuted in the Circus at the wheel of his PS02 with an exciting fifth place. In an exclusive interview on www.minardi.it, Mark told us about his season with the Minardi Team, last year's victory and goals for 2016.
Congratulations for the World Champion Endurance title with Porsche. An extraordinary return. At what point of the season did you realize to have the chance to win the championship?
 
We had some very encouraging results towards the end of 2014 and the writing was on the wall that we could get some momentum however it didn't quite fall into place at the first race of the season in Silverstone. We worked hard in all areas and Le Mans showed that we had a very reliable, resilient package. After our first win in Germany I knew that we could go all the way if we kept our heads down and continued to work hard.
Let's step back. In 2002 you made your debut in Formula 1 World Championship with a fantastic 5th place. Would you tell us something about that weekend and the satisfaction for the first points in your first race?
It was a very special moment in my career to drive my first F1 race in my home country with all the support from the local crowd. I remember Stoddy told me on the grid 'Look mate, if you can get this car home that would be an absolute dream for me'. After the race start, there was a massive accident at the first corner and even though I managed to get out of it the car took quite a battering and for some time it looked like it was terminal. However we got through the whole race distance and crossed the line in fifth place which was unbelievable. The reaction from the crowd was unique and it was incredibly special to start my career in F1 in that way.
When did you meet Minardi f1 Team the first time?
It was late January in the build-up to the 2002 F1 season as my deal was done very late. It was
the first time I'd ever been to an Italian racing team. It was a very modest set-up but of course I was very excited that I was now a race driver for a F1 team.
After Minardi, you moved to Jaguar, Williams, and Red Bull. What the experience in Faenza taught you?
I loved how tenacious the team was; it was obvious their budget was small but the principles inside the team was still all about hard work and preparing the cars the best they could. Many times that year we got good results purely because the underdog spirit was always strong and I enjoyed racing hard against teams we really shouldn't have been.
Do you have a special memory of Gian Carlo Minardi?
Gian Carlo was always very warm and passionate – the values instilled in the team came from him. It was obvious he was hungry for the team to do well with the resources the team had and the drivers were a big part of that and had an important role to play. Although his English wasn't very good and my Italian any better, it was still very easy for me to tell when he was happy or sad about how I drove! I always enjoyed a good relationship with him.
Let's go back to the WEC. Have you had to change your driving style and attitude toward the race to conform it to porsche 919 LMP1?
The transition from F1 to WEC was a big adaptation process form me in the first few months to be honest and a completely new experience. It was definitely a new challenge having to work around the needs of two other drivers. With three drivers in the car you have to compromise on certain things inside the cockpit such as seat and pedal positioning, and in particular some aspects of the set-up related to individual driving styles, which is something you need to get used to. I loved my time in F1 as an 'individual', but at this stage in my career I really enjoy being totally open with my fellow team mates and engineers to get the most from our collective knowledge. The cars are heavier than an F1 car and also the seating position is different which is something to get used to. However these cars are very rewarding to drive, the speeds are high and consistency is key. As a driver in this category you have to be extremely versatile and adapt to the circumstances, whether that's driving the car at three in the morning or when plans change and you're putting in a triple stint.
You have almost won the 24 Hours of Le Mans. What has been the most beautiful moment in the season? 
Le Mans is such a special event. It's a very long, intense week and the race is incredibly hard to put together. The team put in a phenomenal effort, the no 18 car had a few issues but the 17 and 19 cars ran seamlessly, and the cars finished very healthily. There's a very special atmosphere at that race and to stand up on the podium in front of tens of thousands of fans is an unreal experience. 
Winning the World Championship at the last race in Bahrain is definitely my highlight of last year. It's an incredible achievement of Porsche to have won both the drivers and manufacturers' title in what was only our second year back in the sport and I'm very proud to be part of this and be a World Championship winning driver with one of the most prestigious sportscar brands in the world.
How is the atmosphere in the FIA WEC world championship respect to Formula 1?
There is a very friendly atmosphere in the paddock and the manufacturers have a huge level of respect for each other as they know just how much work goes into it this project. Within the team both sides of the garage work towards the same goal, which is getting both cars as high up as possible so this is obviously completely different to an F1 team. The communication across both cars is very open and there is a busy exchange between engineers and drivers. The inter-team rivalry known in F1 is almost non-existent because encouraging that sort of competition doesn't help the manufacturer's aim of getting both cars up the front.
On April 17 the WEC starts at Silverstone. Have you already seen and tried the new Porsche? What are you working to improve a machine that has proven to be very fast and reliable?

I've not yet seen the 2016 car, we will start testing in February. This year's car will pretty much be an evolution of last year's car and we're starting with a very good technical basis which allows us to focus our efforts on improving other areas such as the aerodynamic efficiency, weight, suspension etc.
What other manufacturers  would  you like to see racing in LMP1?
Ferrari and BMW – they have great racing pedigree, especially Ferrari in sportscars, while the category is a perfect platform for BMW to showcase their future technologies. It would be awesome to have them both in the championship and good to compete against them.
After successfully racing  in Formula 1 and winning   the World Endurance Championship, what are your next goals?
It would be great to win Le Mans, it's such a huge challenge and would be a great feather in my cap, but at the same time I'm not getting any younger and won't be chasing after it for the next ten years. I still enjoy the racing and having been part of Porsche's LMP1 program has been very rewarding.
https://www.minardi.it/wp-content/uploads/2016/02/M15_4661-1.jpg
400
600
Redazione
http://www.minardi.it/wp-content/uploads/2019/07/logo_m-1.png
Redazione
2016-02-02 08:00:56
2019-10-22 23:45:25
WEC - Mark Webber calls Ferrari and BMW in LPM1. Exclusive interview