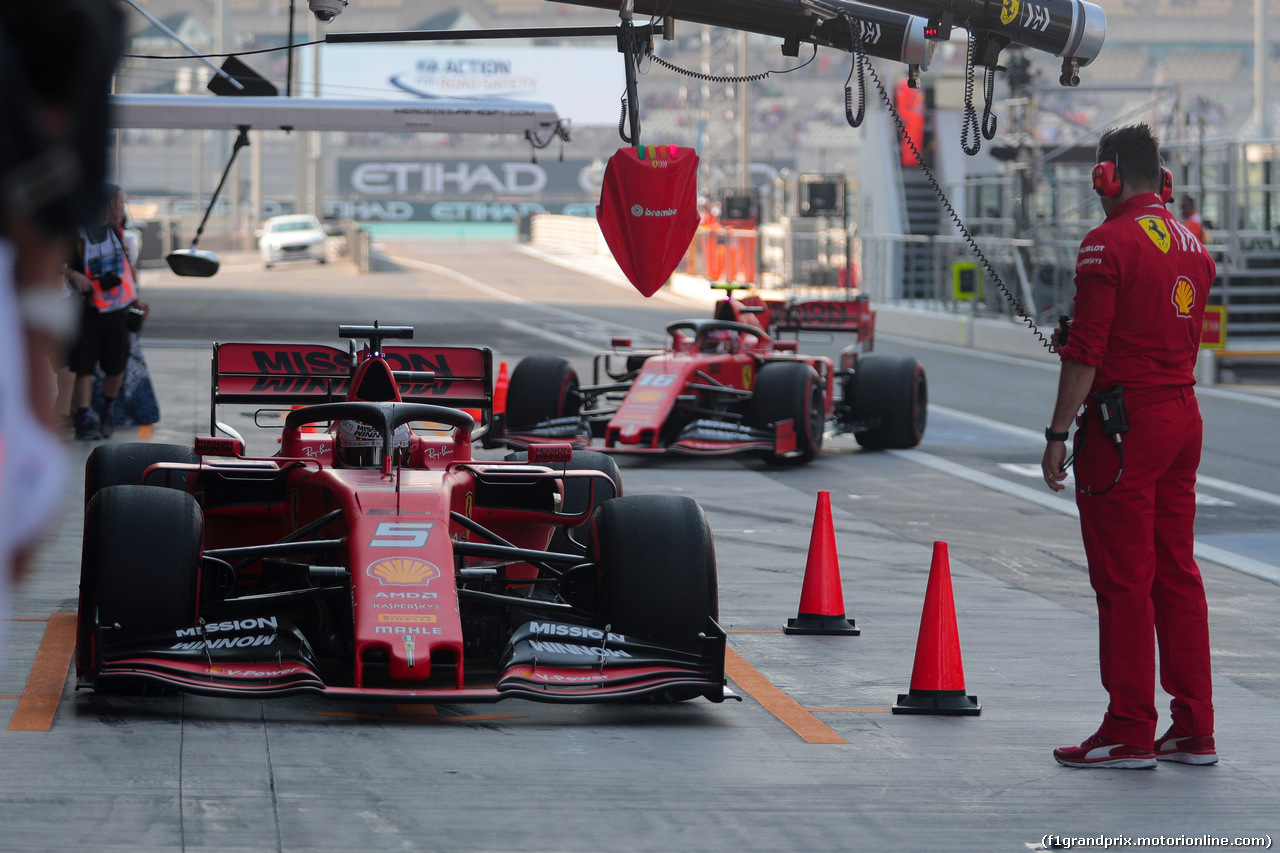 Mercedes ended its latest triumphant season with a disarming performance in which it showed all its strength with Lewis Hamilton's win and especially for Bottas' comeback who, after starting from last place on the grid, crossed the finishing line at the foot of the podium in fourth place behind Leclerc.
Leclerc took his tenth pole position for the season but he paid a gap of 43" from the British driver which went up to 64" for Sebastian Vettel. These heavy figures are supported by the fact that in the 27th lap the Ferrari's people on the wall asked their drivers to save fuel lapping constantly at 1'43" and then gambled on a strategy with one pit stop more but it paid anyway with 1" gap compared to Hamilton's best lap.
Sincerely I did not understand the strategy adopted by Ferrari, especially with Leclerc who, after his masterpiece in qualifying with the Medium tyres, stopped in the 12th lap at the same time as Vettel who had started with the Softs. The people in Maranello must take a reflective pit stop to focus on all the corrections to be made in light of 2020 which concern the chassis, the engine and reliability to which must also be added the mistakes by the drivers and in the strategy.
As was to be expected, Verstappen brought home third place overall amongst the drivers at Leclerc's expense. The result in Brazil played a crucial role in this direction. Red Bull Honda is certainly the name that grew most this season and the second place in the constructors' ladder may have slipped away due to the initial choices. They were justified but they did not affect the drivers' side with a Verstappen who was certainly extraordinary.
We must also highlight the good result by Sainz who finished in sixth spot on the drivers' ladder which confirms his place as a top driver.
Now we have a long, but short, winter, since more than 100 days separate us from the Melbourne gp but the gap from Mercedes really is huge.
Gian Carlo Minardi
https://www.minardi.it/wp-content/uploads/2019/12/f1-gp-abu-dhabi-2019-sabato-00011.jpg
853
1280
Redazione
http://www.minardi.it/wp-content/uploads/2019/07/logo_m-1.png
Redazione
2019-12-01 16:50:24
2019-12-02 10:48:29
F1 | Gp Abu Dhabi, THE POINT by Gian Carlo MINARDI "An unexplainable startegy by Ferrari. A reflective pit stop is needed"