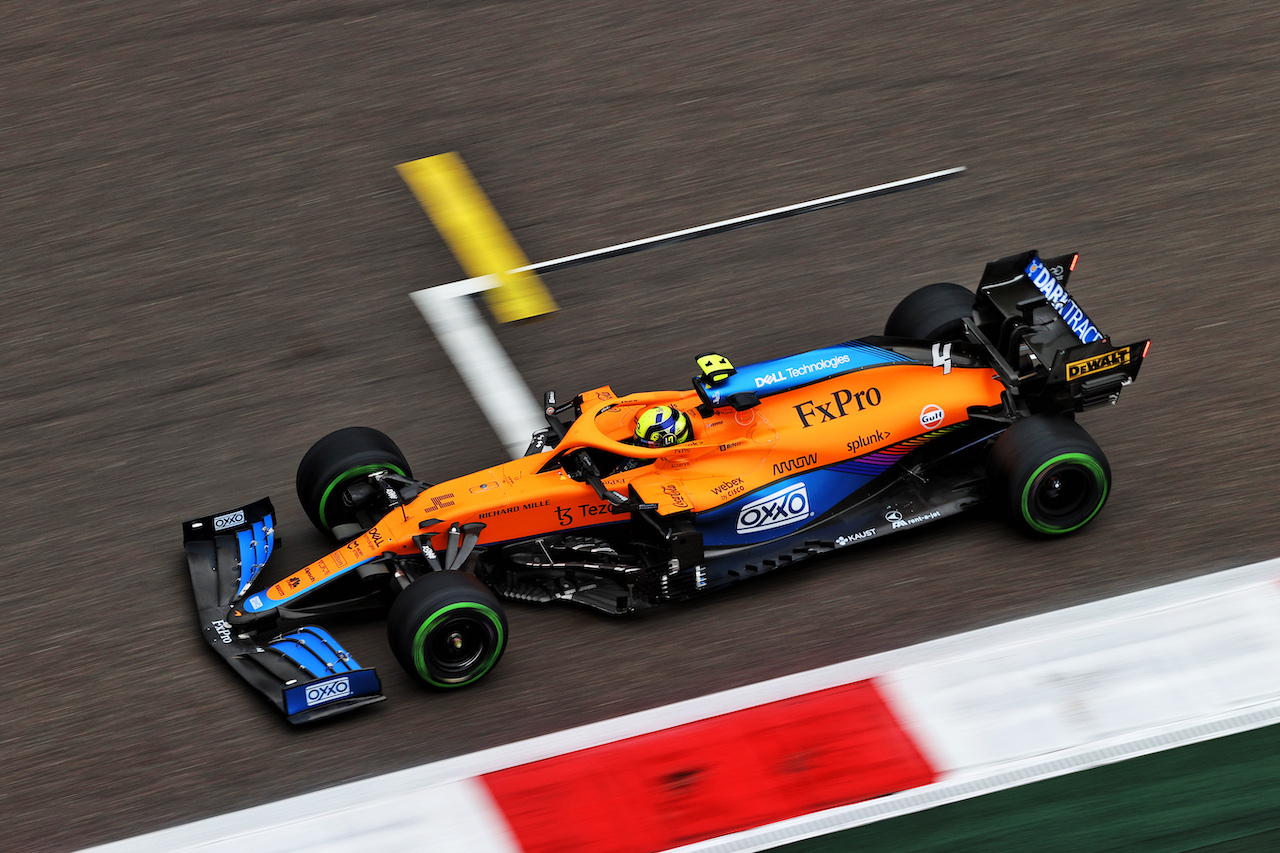 Once again the rain gave us a weekend full of excitement starting with an absolutely atypical qualifying session with Lando Norris, Carlos Sainz and George Russell occupying the first three places and with Lewis Hamilton decidedly subdued and also the protagonist of a fairly serious mistake.
In the race the arrival of the rain during the final stages upset the finishing order that seemed defined with Norris launched towards his first career win. Lando let us see all his talent, supported by a fast growing McLaren. Unfortunately, the decision to stay on the track with the slicks did not pay off and the seventh place did not do him justice. It was an error of evaluation that will serve him in the near future.
It was the same situation also in Ferrari that on the one hand celebrated the podium with Carlos Sainz while Leclerc has to be satisfied with fifteenth place. The position certainly does not reflect the potential expressed. The decision not to re-enter the pits at the right moment to try and attack Bottas and Ricciardo with the intermediates did not pay off.
Well done to Mercedes' people on the wall who called in Lewis Hamilton who thus celebrated his hundredth win. A new record that will be hard to beat, even if these milestones are meant to be broken. Max Verstappen's second place was decidedly positive after having started from last place. The weather was a great help to him as well considering that the Red Bull was not in top form here in Sochi. They managed to make to maximize the result by limiting the damage in regards to its direct rival.
Without any doubt we are witnessing one of the best seasons in recent years, both in competitiveness and the variability of the forces in the field. On the one hand the "old men" such as Fernando Alonso and Kimi Raikonnen who are making the most of their class and experience and on the other hand the young drivers are looking in with great determination. In between is Hamilton who wants to show at all costs that he is still the strongest.
Gian Carlo Minardi
https://www.minardi.it/wp-content/uploads/2021/09/f1-gp-russia-sochi-qualifiche-163.jpg
853
1280
Redazione
http://www.minardi.it/wp-content/uploads/2019/07/logo_m-1.png
Redazione
2021-09-26 17:32:27
2021-09-26 19:51:59
F1 | GP RUSSIA, THE POINT BY GIAN CARLO MINARDI "ONE OF THE BEST SEASONS. AN ERROR IN EVALUATION BY A GREAT NORRIS"