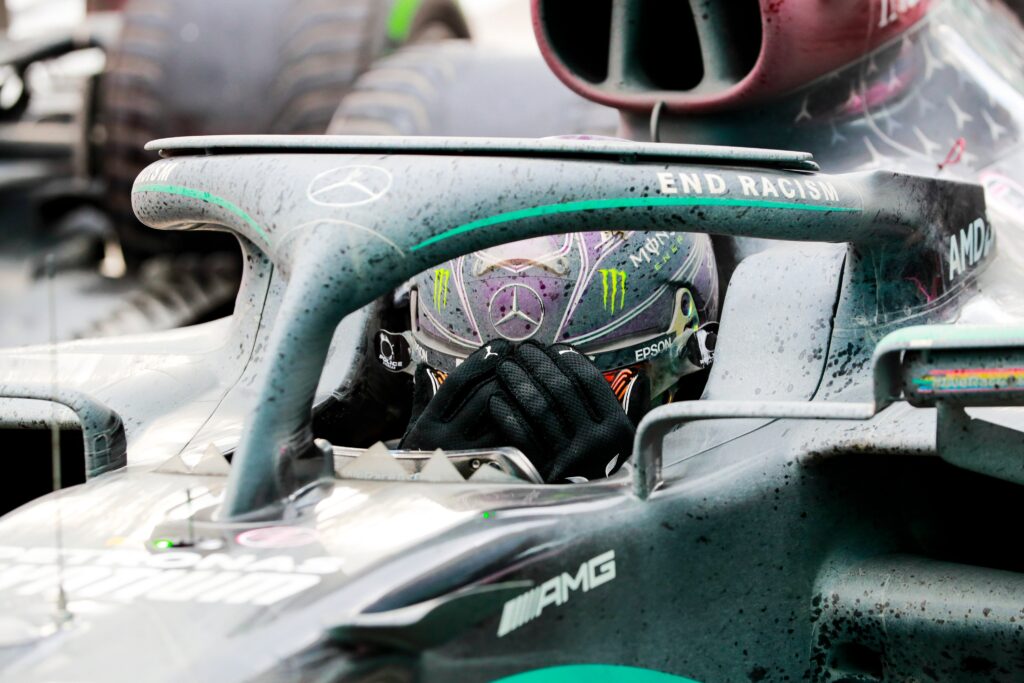 We file away an exciting weekend from which yesterday's difficulties resulted in a grand prix that rates 9/10, full of suspense from the first lap to the last. Zero instead for the organizers who wanted to resurface the circuit against everyone's opinion.
Hats off to Lewis Hamilton who once again gave us proof of all his talents by mathematically taking his seventh world championship, reaching Michael Schumacher, and his 94th win. Despite a difficult start from sixth position he reacted by managing the race in the best way possible despite a car that was not at its best today. He chose to stay on the track in spite of the worn tyres, confirming himself as the leader within the team, finishing the race with a pit stop less than all the others (as did Perez).
It was a pity for the mistakes by the young drivers Max Verstappen and Charles Leclerc who handed third place to a perfect Sebastian Vettel.
The German driver put together his best performance in two years, assisted by a good strategy. He was maybe the only one who did not make the slightest mistake, optimizing the SF1000 to the fullest, a car that is certainly not yet ready to win despite the steps forward. In normal conditions all the limits in regards to the very fierce competition emerged.
With Hamilton and Vettel there were eleven world championships on the podium. Between them was an excellent Sergio Perez. Despite a stupendous performance he is still a driver without a contract for 2021. Unfortunately, this is the nonsense of our sport but I am sure that we will soon find an arrangement.
In front of the two Red Bulls was Carlos Sainz's McLaren. I have always maintained he is an excellent driver and team man. Once again he brought home vital points for the team. An excellent purchase by Ferrari as I already pointed out a number of times.
In a peculiar year, and certainly not the best for Formula 1, these grands prix rehabilitate our sport, which is still the best.
Gian Carlo Minardi
https://www.minardi.it/wp-content/uploads/2020/11/risultati-gara-turchia-2020-1024x683-1.jpg
683
1024
Redazione
http://www.minardi.it/wp-content/uploads/2019/07/logo_m-1.png
Redazione
2020-11-15 14:51:29
2020-11-15 18:50:54
F1 | GP TURCHIA, IL PUNTO DI GIAN F1 | GP TURKEY, THE POINT BY GIAN CARLO MINARDI "9/10 FOR THE GRAND PRIX"MINARDI "GRAN PREMIO DA 9"