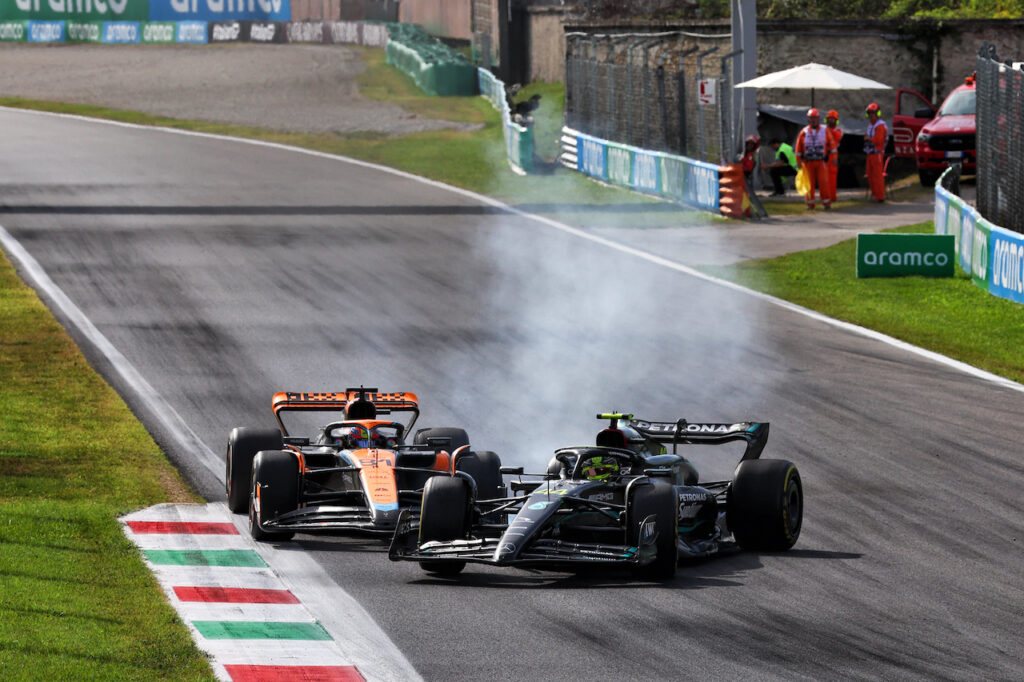 Let us take a step back to Saturday, the setting for the second experiment connected to the new qualifying format. After Budapest the Monza track was the stage for the second "Alternative Tyre Allocation" test.
I have to say that it is an interesting format which does not distort the values in the field. Just like Budapest, even in Monza we had a very hard-fought qualifying with an intense tussle between the first three. It was the second test, on a track completely different from Budapest. I am convinced it is a way to go once again before its definitive introduction in 2024.
On the grand prix front, apart from the illusion of the result from qualifying, free practice already showed that Verstappen and Red Bull had a better race pace. Once again, when it involved getting serious the Dutchman lapped a constant 5-6 tenths of a second faster than his direct rivals, to then stabilize his race pace to a tenth of a second from the pursuer. Once having gained a secure margin, he administered. Red Bull's real advantage has not yet been quantifiable and perhaps never will be.
Having said this of Max Verstappen's first laps, he studied his rival before striking the final blow, surging towards his tenth consecutive win. Sergio Perez's race was also good after his fifth place in qualifying. Having a Red Bull at his disposal, he managed to recover placing himself behind his teammate.
Ferrari's performance was discrete. Since Monza is a track favourable for them, they managed to take the podium (and fourth place with Leclerc) in front of a fantastic audience, recovering important points over its directs rivals Mercedes, also in view to the world championship, consolidating third place to the advantage of an underperforming Aston Martin.
Going to less "friendly" tracks, it will be interesting to see if they will end up with Zandvoor or Monza style results.
After his second place in Holland, Fernando Alonso had to settle for ninth place. Counting on only one driver, it is not easy for Aston Martin to fight on an equal footing with the direct rivals Mercedes and Ferrari amongst the Constructors.
With pleasure, behind the top three teams, we once again saw Williams in strong growth, with an excellent Albon taking home a positive seventh place. He made few mistakes and with constancy managed to take out Q3 and the points zone. Sargeant's thirteenth place confirms the growth of the team. Amongst other things, he managed to put up one of his best times in qualifying.
I thought the 5" penalty inflicted on Lewis Hamilton too soft, considering he ruined the race for Oscar Piastri, who was forced into an additional pitstop to change the wing with the result that he dropped out of the points zone. But he can be consoled with the fastest lap of the race. Up to that moment however, he had been the protagonist of a more than positive performance, as we all as having qualified his McLaren ahead of his teammate.
The European rounds ended with Monza and the uncertainty of the performances behind the leader continues.
Gian Carlo Minardi
https://www.minardi.it/wp-content/uploads/2023/09/hamilton-piastri-mercedes-mclaren-monza-gara-incidente-f1-2023-1024x682-1.jpg
682
1024
Redazione
http://www.minardi.it/wp-content/uploads/2019/07/logo_m-1.png
Redazione
2023-09-04 15:19:42
2023-09-04 15:33:40
F1 | ITALIAN GP, THE POINT BY GIAN CARLO MINARDI "QUALIFYING FORMAT APPROVED. HAMILTON'S PENLATY WAS TOO SOFT"