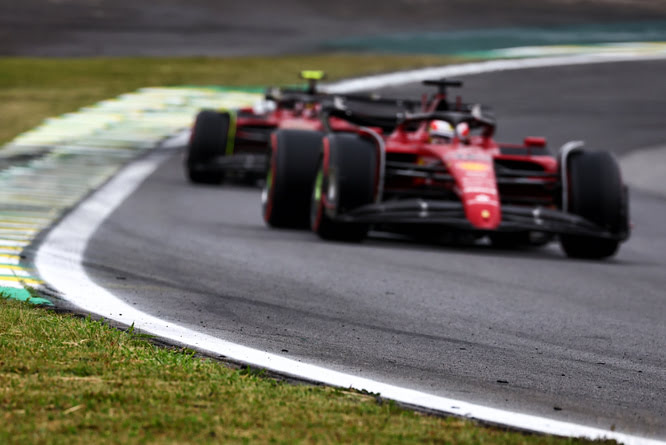 In Brazil we saw an extraordinary weekend with eventful qualifying, sprint race and grand prix and enriched by actions that were even on the limit of the regulations and excessively penalized, such as the collision between Lewis Hamilton and Max Verstappen. The penalty was probably dictated by the fact that the Dutchman had all four wheels off the track.
The same goes for the episode between Norris and Leclerc where there was a concurrence of fault on the part of the Ferrari driver. He tried to overtake at an unlikely point and above all in the first lap of an important grand prix for both him and the team in terms of the championship. The driver from Monte Carlo may have been unnerved by the episodes in qualifying but he must start to impose his technical decisions since he is the one who takes to the track. However, this too is part of the growth path and is a token to be paid to become a real champion.
He was then the protagonist of an incredible comeback that finished behind an excellent Carlos Sainz. Too bad for the start of the fire that slowed down the Spaniard who was the protagonist of an excellent comeback starting with the sprint race. Ferrari did well not to reverse the positions to avoid joint risks, even if this could have helped Leclerc who is currently tied with Perez.
I did not like Max Verstappen's team radio in any way. With great determination he denied the position to his team mate who was fighting with Leclerc for second place in the drivers' ladder. With two world championships and fourteen wins behind him he should have started to think about the team and not just himself. This was an episode that, in my opinion, highlighted the presence of a dispute between the drivers.
The weekend was decidedly favourable to Mercedes and George Russell who "took home" both the sprint race and the grand prix. If Red Bull and Ferrari froze development a while ago Mercedes continued to work and the results are showing. Having three teams fighting for the win would be a dream for Formula 1. We are also waiting to see the result in Abu Dhabi.
With the result in Interlagos Ferrari saw its lead over Mercedes shrink to only 19 points, with Leclerc and Perez tied on 290 points on the drivers' front. The Yas Marina track will give us the final verdicts.
An exciting weekend that could have become a great spot for the sport has ended.
The final act will be in a week's time.
Gian Carlo Minardi
https://www.minardi.it/wp-content/uploads/2022/11/Ferrari_Leclerc_Sainz.jpg
445
666
Redazione
http://www.minardi.it/wp-content/uploads/2019/07/logo_m-1.png
Redazione
2022-11-14 11:13:00
2022-11-14 11:13:00
F1 | SAO PAOLO, THE POINT BY GIAN CARLO MINARDI "VERSTAPPEN'S TEAM-RADIO WAS BAD. LECLERC MUST IMPOSE HIMSELF"