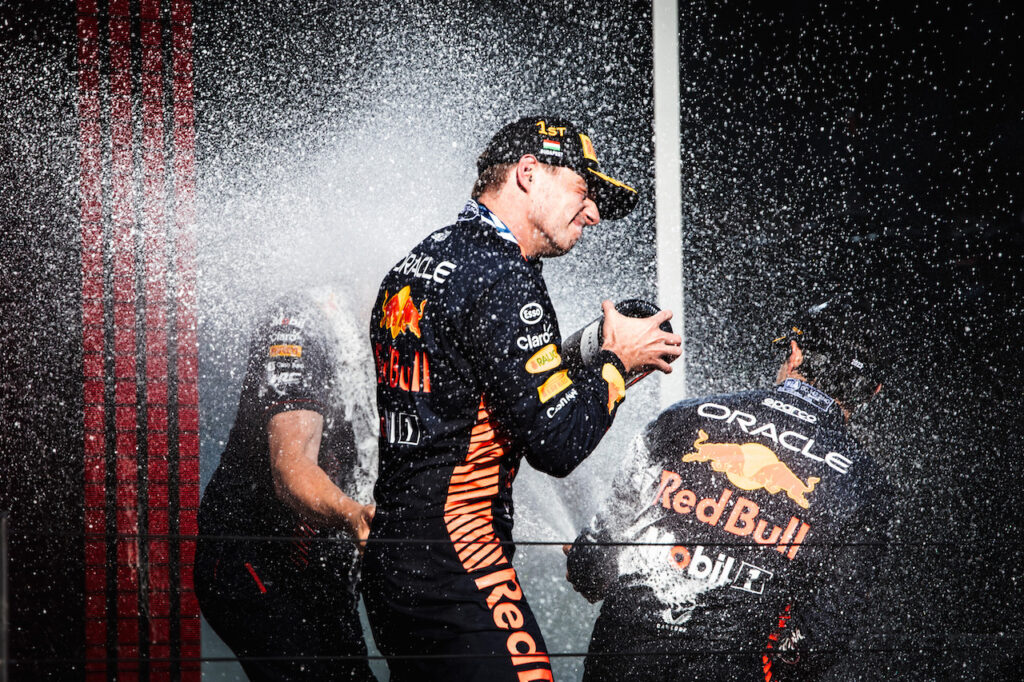 Hungary was the setting for the new qualifying format which saw the drivers face up to three sessions with the imposed compounds. A new experiment which requires further verdicts, but I find the signs decidedly positive. It can have a future. We saw a wonderful tussle on the edge of hundredths of a second. In Q2 sixteen cars were enclosed within a gap of barely 7 tenths of a second. In Q3 ten cars in little more than half a second with Hamilton, Verstappen, and Norris in 85 thousandths. It is easy to see surprises as happened with George Russell who went from the "rags" to "riches". I am curious to see it repeated in Monza.
As far as the grand prix is concerned, what can I say? Max Verstappen was superlative, supported by a great Red Bull- They confirmed they are absolutely unbeatable. Verstappen crossed the finish line 33.7" ahead of Lando Norris, an excellent second place with McLaren, confirming the excellent evolutionary step already seen in Austria and England.
Oscar Piastri confirmed what I have been saying for some time, he is growing from race to race, above all since the World Championship has come to the tracks he already knew. More, now that he is also supported technically. He is possibly lightly punished by the strategies in favour of Norris, an English driver in an English car.
Too bad for Lewis Hamilton. With the imperfect start he denied himself the podium finding himself quickly behind not only Verstappen's Red Bull, but also the two McLarens.
Sergio Perez completed his task, considering the car available to him. After a disastrous Saturday he recovered the podium, the minimum result. His teammates domination has probably demoralized him. Friday's mistake was very serious, on the first lap on a wet track. A driver who aspires for the world championship cannot make these mistakes.
An equally serious mistake by Charles Leclerc in pit lane, even if it cost him little considering the 70" gap (which would have been 65 without the penalty) paid in regard to Verstappen. In any case, if you want to play for the world championship you cannot trip over such trivialities. A mistake also by the team, with the left rear. There is certainly great nervousness in Ferrari. The team cannot find a way out.
Today Red Bull also inflicted a lesson and moral, technical, and sporting slap to everyone with a pitstop that finished in 1.9" (Ferrari made 2.6"), to which must be added the best lap of the race by the Dutchman in 1:20.540. The only one to fall under the 1:21 barrier was Lewis Hamilton, the best of the others, who stopped at 1:21.601. Lando Norris 1:22.178. Charles Leclerc 1:22.469.
Now we only have to wait for Spa-Francorchamps before the summer break.
Gian Carlo Minardi
https://www.minardi.it/wp-content/uploads/2023/07/maxverstappen-redbullracing-budapest-ungheria-gara-f1-formula1-1024x682-1.jpg
682
1024
Redazione
http://www.minardi.it/wp-content/uploads/2019/07/logo_m-1.png
Redazione
2023-07-23 22:02:12
2023-07-23 22:02:12
F1 | GP HUNGARY, THE POINT BY GIAN CARLO MINARDI "RED BULL'S MORAL, SPORTING AND TECHNICAL SLAP"